Photographic Wall coverings for Sale
Shop Photographic Wallcoverings Online
4′ h x 4′ w : $320
Custom Sizes are available
Photographic Wall coverings by Julia Blaukopf on exhibition in Old City, Philadelphia
Julia merges her photographic wall coverings with interior environments with both temporary and permanent pieces. Her work will soon be available to purchase online.
April 1-30th, Meadowsweet Mercantile showcases her new collection of ready-made, removable prints. View her portfolio of photographic wall coverings, prints, and experimental pieces @JuliaBlaukopf

Cuttalossa
pairs the rich tones of their hand-woven Turkish textiles, carpets, towels, bedding,
and wraps with Julia's photographic wall coverings.
The material is by
Presto Tape
. It is a non-adhesive back CanvasTac that is PVC, phthalate, and lead free and made in Bensalem, Pennsylvania.
47 N. 2nd Street, Philadelphia
Removable Photographic Wallcoverings now available
Apartment Therapy highlights Julia Blaukopf's photographic wallcovering in House Tour: An Artist's Haven in West Philadelphia.
Shannon Retseck of Cuttalossa & Alex Boatman of Makoma Lights commissioned Julia to create a photo-hanging that speaks to nature.
"We are both from a more rural part of Pennsylvania so we try to bring in some natural elements into our city dwelling."
Retseck writes, "Our favorite addition would be the wall art behind the bed. Artist Julia Blaukopf normally uses an adhesive wallpaper for a project like this. Since we are renters, that was not an option. She was able to have her work printed on a material that was durable but lightweight enough to tack to the wall."
Email Julia to purchase "Sleeping Beneath Trees"
Matte Vinyl
8'h x 7'w
$550 + shipping & tax
Custom sizes are available.
PHOTO-BASED ACCENT WALLS
PHOTO-BASED WALLPAPER AT
"DUPLEXCELLENCE," A NOT-SO-TRADITIONAL  
OPEN HOUSE FOR POSTGREEN HOMES    

On May 7, 2015, we were honored to debut photographic wallpaper in one of Postreen's
customizable, energy efficient, well designed & affordable
homes.
We are excited to work with Postgreen and their future buyers to design photo-based wallpaper for accent walls in their customizable homes. There will be three main categories: Urban Landscape, Nature, & The Sea. Additionally, Julia is available for commission to work one-on-one with clients to create an entirely custom wall.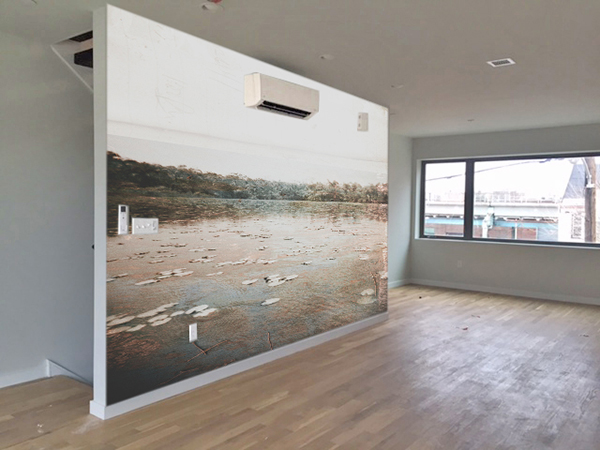 On the Postgreen Homes Blog, the president, Chad Ludeman, introduces "Artistic Accent Wall Options."
"We all love accent walls and while it's easy to paint one or even put up some pallet wood on one, we wanted to do something a bit more unique (not that we probably won't offer those options soon also). We're happy to announce our first artist – Julia Blaukopf – to take part in this new program with us. Julia is more talented than we probably deserve to work with, which is why we're pretty psyched about the potential of her work in our homes. She has a varied background that includes all types of photography, a book, jewelry and most recently architectural wallpaper created from her photography works."
Philly Living's Sandy Smith covered the event, writing:
"Up against the walls of the living room and kitchen of one model unit were samples and projections of the work of Philly photographer Julia Blaukopf, whose photographs and collages span a broad spectrum that includes history, social commentary and celebrations of the natural and man-made environment."
Conceptual Design Process
Brainstorming Wallpaper for a Bathroom
Ships on the Waterfront

PDF Catalog of Photographic Works now available
The new digital catalog of Photographic Wallpaper is now available. Email Julia to receive a copy.
Julia.P.Blaukopf@gmail.com
GirardonGirard in Philly.com
Michael Klein highlights Julia's work in Philly.com.
Michael Klein highlights Julia's work in Philly.com. http://bit.ly/14NrL5C
Girard on Girard
Girard hoped for a truly unique bathroom in their new 'no tipping' brasserie in the Fishtown neighborhood of Philadelphia.
Julia photographed from the roof of the restaurant. The final image is a black and white interpretation of the surrounding cityscape. The photograph wraps around the bathroom walls, including the door. A mirror hangs above the sink and toilet, reflecting the entire scene.
Michael Klein highlighted Julia's work in Philly.com.
http://bit.ly/14NrL5C
Photographic Wallpaper by Julia Blaukopf for Girard, in collaboration with Joshua Otto of Otto Architects LLC.
Impeccable install work by Steven Earl Weber.
Printing by Silicon Gallery Fine Art Prints with Caity Colburn & Rick De Coyte
THE RENOVATED HOME OF ALAN METCALFE
HOME INTO A MASTER BEDROOM SUITE.
Through the design process, Julia responded to the client's desire to have their Mt. Airy neighborhood trees reflected in the artwork. Julia applied layers of photographs to achieve a vivid and sensual piece that emulates the feeling of sleeping beneath re-imagined trees.
One photographic collage spreads from the bedroom to the hallway,
where an art piece by Martha Madigan hangs above the stairway.
Girard Brasserie Wallpaper in the Press
Thank you to philly.com for mentioning my new photo-based wallpaper at Girard, a new brasserie in Fishtown.
"…one of the coolest features is in the restroom. The men had photog(rapher) Julia Blaukopf go to the roof and take a panoramic photo of the immediate area. That's Girard Avenue wrapping around the walls."
2400 Chestnut
PHOTOGRAPHIC WALLPAPER FOR
2400 CHESTNUT
, IN COLLABORATION WITH
OTTO ARCHITECTS LLC
.
2400 Chestnut is a luxury commercial and residential high-rise building in the center of Philadelphia. Julia covered the accent wall of the public meeting room with a historic photograph of the 30th Street Station departure hall. 2400 looks out onto 30th Street Station. The client wanted to reference the history of the Philadelphia railway.
…..
Sign Up for Email Updates

Enter your email address below to receive updates about new art, shows, and other news:
Posts by Category
Photos from Flickr