Photographic Pillows on sale at Parisa Rugs & Decor
Julia's photographic pillows are now available exclusively at Parisa Rugs & Decor
in Old City, Philadelphia. A collaboration with Parisa Abdollahi, designer and owner.
Parisa Rugs & Decor
pdr@parisarugs.com
Showroom
33 N. 3rd Street
Philadelphia, PA 19106
Hours
Monday – Friday
10am-5pm
Saturday  11am-5pm
Sunday
by appointment
Glass Awnings
New Commission for The Print Center
The Print Center in Philadelphia commissioned Julia to create a photographic mural as part of their Centennial: The Print Center 100. Hoping to reflect the city from above, she chose a view of center city from the roof of a high-rise, The Philadelphia Building. The adhesive-backed vinyl is appears in a doorway, facing Latimer street.
Photographic Pillows
Photographic Pillows available for purchase
Contact Julia to purchase a beautiful photo-based pillow.
$85
16″ x 16″
Machine-washable cover includes a hidden zipper enclosure; the pillow itself is filled with a synthetic material.
PHOTO-BASED ACCENT WALLS
PHOTO-BASED WALLPAPER AT
"DUPLEXCELLENCE," A NOT-SO-TRADITIONAL  
OPEN HOUSE FOR POSTGREEN HOMES    

On May 7, 2015, we were honored to debut photographic wallpaper in one of Postreen's
customizable, energy efficient, well designed & affordable
homes.
We are excited to work with Postgreen and their future buyers to design photo-based wallpaper for accent walls in their customizable homes. There will be three main categories: Urban Landscape, Nature, & The Sea. Additionally, Julia is available for commission to work one-on-one with clients to create an entirely custom wall.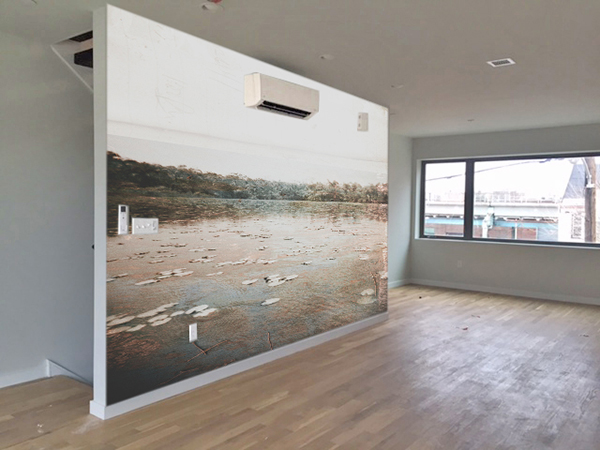 On the Postgreen Homes Blog, the president, Chad Ludeman, introduces "Artistic Accent Wall Options."
"We all love accent walls and while it's easy to paint one or even put up some pallet wood on one, we wanted to do something a bit more unique (not that we probably won't offer those options soon also). We're happy to announce our first artist – Julia Blaukopf – to take part in this new program with us. Julia is more talented than we probably deserve to work with, which is why we're pretty psyched about the potential of her work in our homes. She has a varied background that includes all types of photography, a book, jewelry and most recently architectural wallpaper created from her photography works."
Philly Living's Sandy Smith covered the event, writing:
"Up against the walls of the living room and kitchen of one model unit were samples and projections of the work of Philly photographer Julia Blaukopf, whose photographs and collages span a broad spectrum that includes history, social commentary and celebrations of the natural and man-made environment."
Photographic Artwork in Healthcare
On March 1st, Julia's business director, Michael Haerteis, presented concepts of her work at Munich Creative Business Week 2015, a city-wide conference that focuses on architecture and design.
Michael's presentation focuses on art in Senior Citizen homes in Germany. His research begins with quoting Article 27 (1) of the Universal Declaration of Human Rights, which states that everyone has the right freely to participate in the cultural life of the community, to enjoy the arts and to share in scientific advancement and its benefits.
Michael's research centers on how seniors who are physically and often mentally challenged experience the arts, as well as how art is included. He visited six elderly live-in homes in Munich, analyzing how each venue uses artwork. He then offered suggestions as to how artwork can be included to improve the interior environments.
Michael found that one particular problem exists at secure Elder Care facilities for those with dementia. Due to the resident's mental limitations – first loosing their short term memory, later their long term memory – they often forget what their hospital bed looks like. In such cases, the staff guides them to this "normal" bed, which looks more like their previous, personal bed. The room you see sometimes functions as a bedroom, but it does not feel warm and welcoming to those in need. Thus, to improve the aesthetics of the room, Michael has created these two concepts that show how Julia's artwork can completely change the environment.
Similar to the above, Michael also presented artistic solutions for communal areas.
But not only the Elderly need to experience the positive aspects of art in Senior Citizen Homes. The caretaker, nurses and doctors need to be considered when identifying locations for artwork and selecting the final piece. Michael therefore provided solutions for staff rooms, like this conference room, which is located underground and has no natural light passing through the windows. By using the executing windows as light boxes, Julia's photographic collages create an open environment.
Idea Book | Photographic Wallpaper
Stained Glass Artist from Afghanistan
Conceptual Design Process
Brainstorming Wallpaper for a Bathroom
Ships on the Waterfront

Photographic Corian Lightbox for 2400 Chestnut Associates
I worked with Joshua Otto of Otto Architects LLC to design a photographic art piece that simultaneously displays a past and present view of 2400 Chestnut Associates.

We created a layered lightbox. A historic photo of Frank Furness' B&O Railroad Station was printed on plexiglass, then set in front of a backlit, modern view made of CNC-milled Corian sheet.


Many thanks to Steven Earl Weber for installation.
Photographic Tiles for a Mt. Airy Kitchen
Julia Blaukopf recently made custom photo-tiles for Natalie Weathers Nixon, depicting her home and the beautiful backyard treescape. Natalie commissioned Julia to first photograph around her home. Five images were subsequently selected as accent subway tiles in her newly renovated kitchen.
Sign Up for Email Updates

Enter your email address below to receive updates about new art, shows, and other news:
Posts by Category
Photos from Flickr