PHOTO-BASED ACCENT WALLS
PHOTO-BASED WALLPAPER AT
"DUPLEXCELLENCE," A NOT-SO-TRADITIONAL  
OPEN HOUSE FOR POSTGREEN HOMES    

On May 7, 2015, we were honored to debut photographic wallpaper in one of Postreen's
customizable, energy efficient, well designed & affordable
homes.
We are excited to work with Postgreen and their future buyers to design photo-based wallpaper for accent walls in their customizable homes. There will be three main categories: Urban Landscape, Nature, & The Sea. Additionally, Julia is available for commission to work one-on-one with clients to create an entirely custom wall.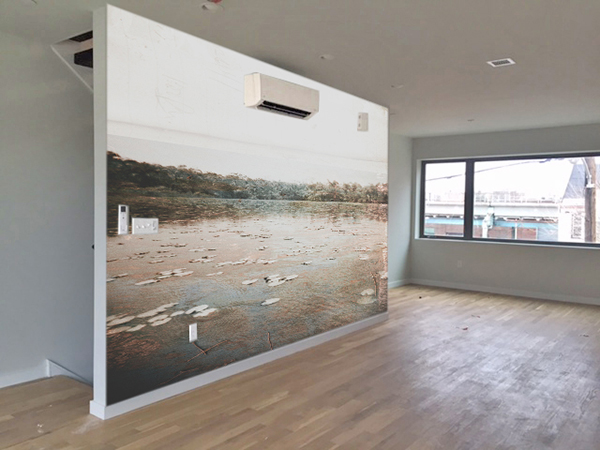 On the Postgreen Homes Blog, the president, Chad Ludeman, introduces "Artistic Accent Wall Options."
"We all love accent walls and while it's easy to paint one or even put up some pallet wood on one, we wanted to do something a bit more unique (not that we probably won't offer those options soon also). We're happy to announce our first artist – Julia Blaukopf – to take part in this new program with us. Julia is more talented than we probably deserve to work with, which is why we're pretty psyched about the potential of her work in our homes. She has a varied background that includes all types of photography, a book, jewelry and most recently architectural wallpaper created from her photography works."
Philly Living's Sandy Smith covered the event, writing:
"Up against the walls of the living room and kitchen of one model unit were samples and projections of the work of Philly photographer Julia Blaukopf, whose photographs and collages span a broad spectrum that includes history, social commentary and celebrations of the natural and man-made environment."
art for the home | window
Photographs on Fabric
for windows and rooms
as 
curtains, scrims, blinds, room partitions, or decorative wall hangings.
….
fabric represent the artists' imagery
fabric scrims are tailored to the size that the client needs.
fabric choices include silk, polyester, ecologically sound materials, and other translucent pieces.
please inquire for more options, julia@juliablaukopf.com
– materials are archival –
Sign Up for Email Updates

Enter your email address below to receive updates about new art, shows, and other news:
Posts by Category
Photos from Flickr